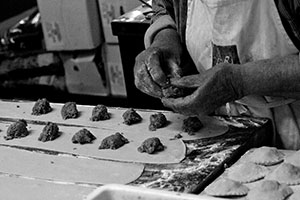 Località: Lucca
Indirizzo: Piazza Bernardini 7
Telefono: 0583 491364
In the historic center of Lucca, is the typical Trattoria da Sergio, a place to find the flavors of the Tuscan tradition.
Excellent cuisine with Tuscan dishes really that difficult to find ... with a wide selection of wines to taste them along with the dishes.
You can eat outside in a small square between the narrow streets of the center of Lucca or inside in the cool and pleasant rooms.
Try the tordelli Lucca, the Tuscan soup with croutons, fried zucchini flowers stuffed with mozzarella, roasted suckling pig, sliced.
Absolutely not to be neglected rabbit cacciatore with polenta and olives, the shank with onions, 'peposo' (a stew made of beef marinated in red wine and then cooked very slowly) with polenta.
Truly amazing the house wine.
A greeting by management.
See you there!

Notes:
Open all week.
Reservations accepted after midnight.