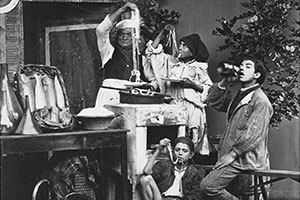 Località: Lucca
Indirizzo: Via S. Croce 71
Telefono: 0583 464307
In the historic center of Lucca, is the typical restaurant from Nonna Clara, a place to find the flavors of the Tuscan tradition.
The specialty of the house, as stated in the Tuscan tradition, it is the home-made pasta and the famous tordelli with meat sauce.
Do not leave out the salt cod, cooked in various ways typical, able to delight the most discerning palate.
You can eat outside in a small square between the narrow streets of the center of Lucca or inside in the cool and pleasant rooms.
Certainly to try tordelli Lucca, the Tuscan soup with croutons, roasted suckling pig, sliced, delicious pizzas.
Truly amazing the house wine.
What a terrific, in the pure tradition of tourism Lucca, the kitchen there never closes the door in his face!
A greeting by management.
See you there!

Notes:
Open all week.
Reservations accepted after midnight.